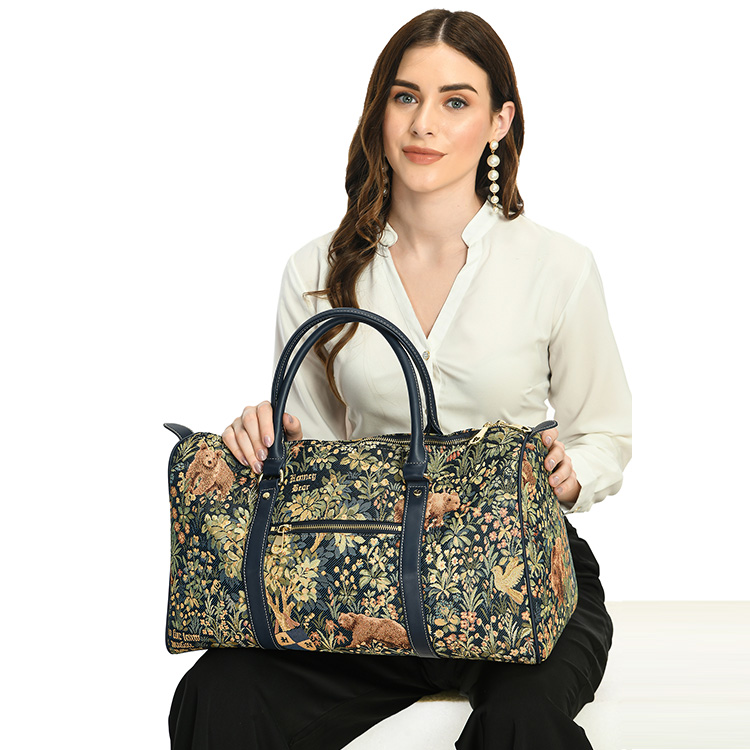 Tapestry is an ancient, yet well-renowned form of art. Initially flourished in the Middle Ages Europe, and the French; this art has made a unique place in everyone's heart through its authenticity and virtue.
The famous designer, William Morris, once said how tapestry revolves around the purity and elegance of the silhouette of objects. His famous tapestry artworks The Quest for Holy Grail, The Vision, etc., show the richness of the middle ages and keep the heritage of tapestry in modern times too.
Today, Tapestry does not only inspire artists but also designers. It has become a confluence of history, art, and passion in home art or design. We also try to showcase our love for the art of Tapestry by bringing it to these women's fashion bags thus combining the rich heritage of tapestry with modern luxury fashion bags to maintain their ornamentation.
Henney Bear Blue Hummingbird has the affluence of the art of Tapestry on the contemporary style of bags. The assimilation of nature through tapestry increases its cultural value manifolds. Where this little bird is a powerful symbol of transformation and a guide to a better future, it becomes necessary to carry to feel a new change in us.
When you need to carry a lot of things, the Blue Hummingbird Shoulder Bag needs to be included in a variety of bag categories. When it comes to fashion, a change is important, and this bag definitely fills that void by giving you a meaningful outer appearance. Brace for more attention!
We all know, Paris is the city of fashion. Thus, we have brought the essence of Paris to our luxury designer bags using the evergreen woven Tapestry art in the section of "Paris Bear". The bag's off-white pattern not only features the iconic Eiffel Tower but also many more fashion elements. To visit the Eiffel Tower once in a lifetime is the ultimate romantic fantasy. This signature creation of Henney Bear weaves both the fashion and love of Paris into these bags. Paris Bear Shoulder Bag, Top Handle, Crossbody Bag, and Half-Moon Crossbody Bag are some of the top-selling bags where the heritage of Tapestry is kept intact
The cute bears have been crafted with a fusion of fashionable clothes on them, using Tapestry over these handbags. One can carry these fashion bags on various occasions: whether it's a formal event, an outing with loved ones, or to the office, it could be an adorable attraction.
Parrots are the primary focus of attention in the Parrot Song category, due to their optimistic and vocal attitude, and, of course, the Tapestry art. Again we have numerous designs in this section. Parrot Song Top Handle, Shoulder Bag, Backpack, Clutch/Crossbody Bag, etc., are the bags that women will love to keep and carry in their day-to-day life adding charm to their outfits.
Tapestry's legacy appreciates its history and the extravagant luxuriousness linked with it. To honor the Tapestry, we maximize our efforts in producing premium quality luxury designer bags. Henney Bear's vision is to respect the Art and incorporate it into your everyday attire.
---